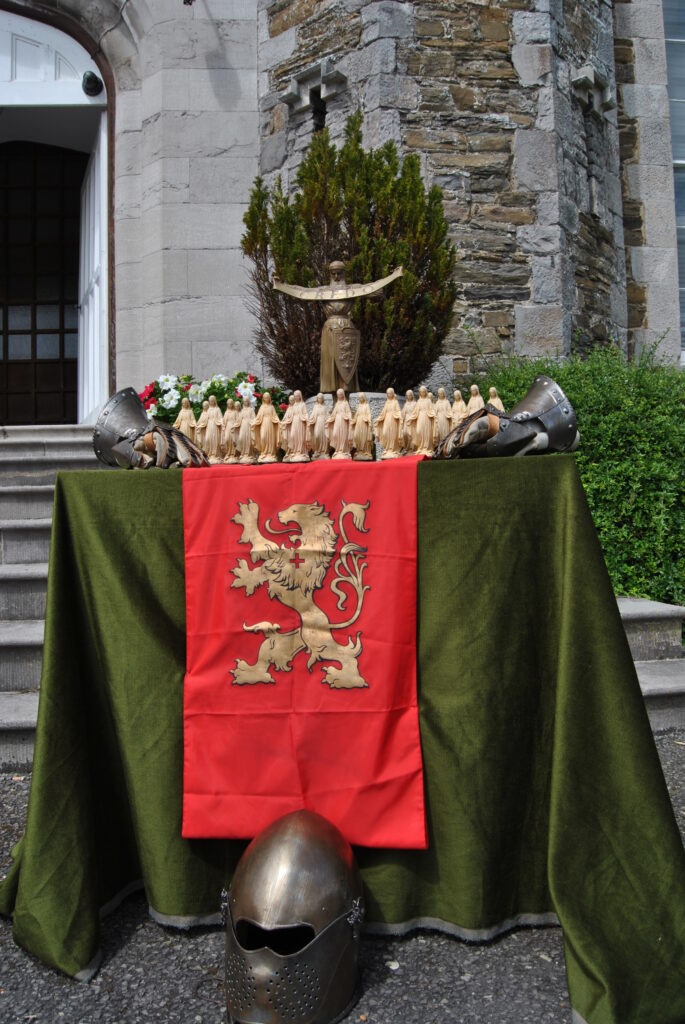 "The camp offered a unique opportunity to acquaint myself with other Catholic boys as well as learn some of the truths of the Catholic faith that are so often forgotten. Namely, that the Catholic faith is manly, and also that bring part of the Church Militant, we have a sacred duty to defend the Church when it is under attack. This was facilitated by charitable behaviour, combative games, conversations, outings and exciting talks."
Gregory M. – Camp Participant, Cork
From the 4th to the 8th of July, the Irish Society for Christian Civilisation organised a Call to Chivalry Summer Camp in Gormanston College, thirty miles north of Dublin. 18 boys and 4 fathers, some travelling from Poland and France, participated. Unlike most camps that only focus on fun, this one also fostered manly Faith. The singing of the Creed, the daily recitation of the Rosary and the talks shared that single purpose. Meetings ranged from the First Crusade and the different Orders of Chivalry to the Reconquest of Spain and the Siege of Malta. The participants also walked to the shrine of St Oliver Plunkett, an Irish Bishop and educator who courageously opposed the enemies of the Church in his time.
Everyday started with the sound of the bagpipes. Lined up outside their rooms, the boys were then led in the St. Michael the Archangel Prayer slowly prayed in Latin to better accommodate the different nationalities. Thirty minutes later, inspection followed. Each bedroom had to be tidy. Original games only found at Call to Chivalry camps such as Shield Ball, French-football, Marshall, Steal the Bacon and Prison Break were played throughout the camp, Prison Break being the favourite.
Other highlights were the Treasure Hunt and campfires on a nearby beach. While the Irish participants had a culture shock when the Polish brought sausage to cook over the open campfire, they were no less shocked than the Polish when they saw their Irish counterparts bringing marshmallows.
The last day ended with the Medieval Games and Medieval Banquet, which the families were invited to attend. Under the gaze of a statue of Our Lady of Fatima and the flying TFP standard, the boys and the fathers played different games, which stressed teamwork and honorable conduct. Our Lady truly smiled that day for the Medieval Banquet was eaten outside without any rain, something unusual for Irish weather.
Each boy received a small statue of Our Lady of Grace as a memento of the camp. May the Blessed Mother guide these young men to become what God made them to be — Catholic heroes in a turbulent world.
Saint Patrick – Pray for us!