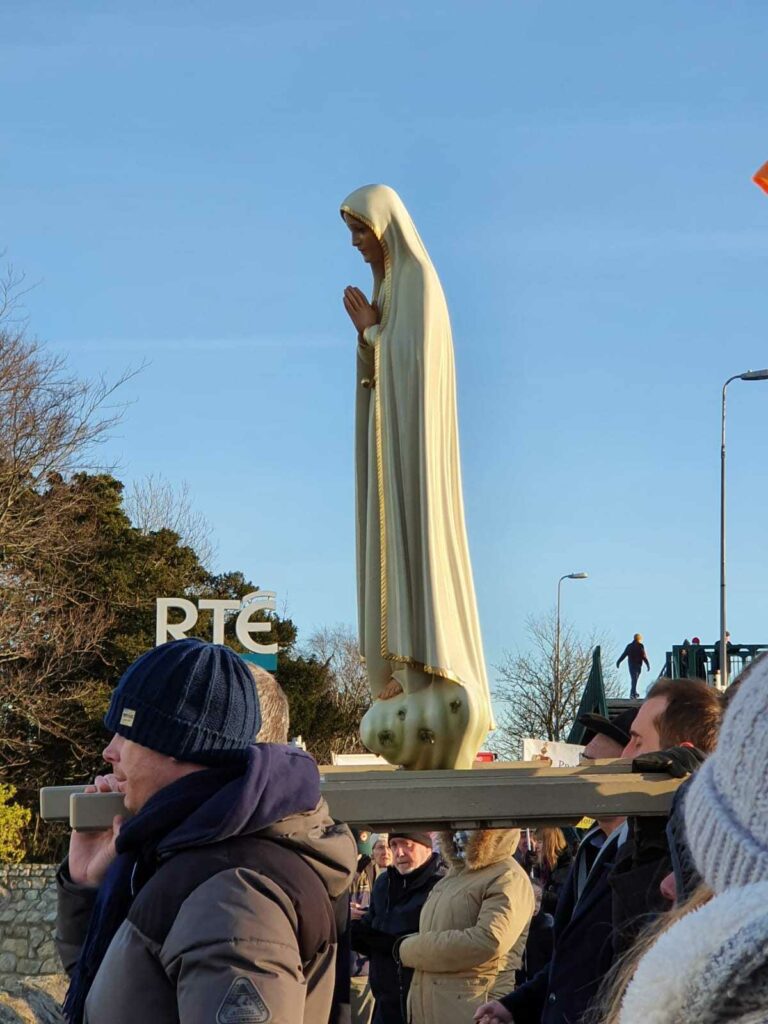 Responding to Raidió Teilifís Éireann's (RTÉ's) blasphemous portrayal of God as a rapist in their New Year's Eve Countdown Show, volunteers from Irish Society for Christian Civilisation, ISFCC, went to RTÉ's headquarters in Dublin on January 9th. At the same time, three hundred Catholics from across Ireland joined to pray and make reparation in front of RTÉ. This gathering was spontaneous and leaderless, conforming to Ireland's COVID-19 prevention measures that have banned any organised events, even prayer.
Arrest for "leading the Rosary"
Thirty members of the An Garda Síochána also went to the peaceful and legal gathering. They first directed their efforts on those they incorrectly judged to be "leading". Two Garda told an ISFCC volunteer to leave for "leading the Rosary" or get arrested, but not before they had obtained a name and address while threatening arrest. Several others got their names and addresses taken before they were also ordered to leave the area.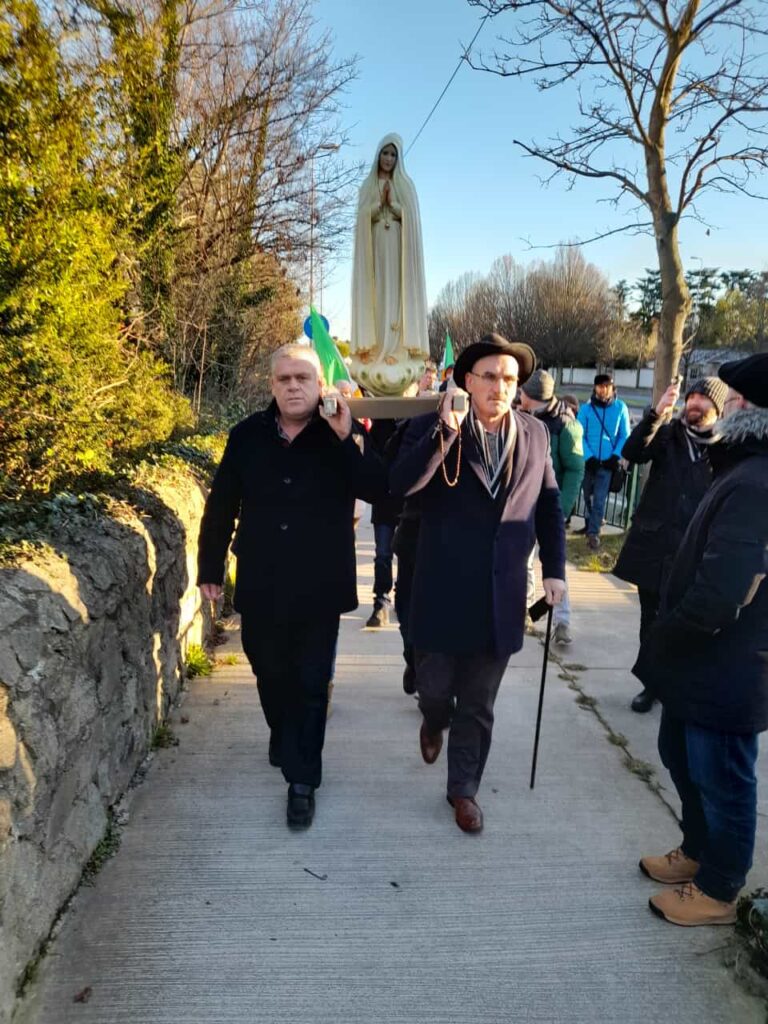 "The real offenders are RTÉ"
When asked about the actions of the Gardaí, one man pointed out the "real offenders are RTÉ." Calling their blasphemous Countdown Show a "huge offense" he said that "They are the people the Gardaí should be interviewing: names, addresses, etc." Ignoring provocations from one Garda saying, "God doesn't exist" the demonstrators kept their focus. The attitude of the faithful Catholics is well shown by the formal intentions given for the prayers:
"We are here to make reparation to God and Our Lady for the terrible and unspeakable blasphemy RTÉ committed on their New Years Eve "Countdown Show", and to make clear that we will not tolerate such vile attacks on God, our loving Father, who can do no evil. We pray that this rally consoles Our Lord and Our Lady and at least repairs in-part the damage done by RTÉ to God's Holy Name.
People's Reaction to RTÉ's Blasphemy
One lady told us that she was "devastated at this news. It is heartbreaking. Both of my parent's fathers fought for the freedom of Ireland before and during the uprising. They would be shocked that Ireland has sold its soul." A man from Clare said that "I never watch the station because of their anti God anti life [mentality] towards all things that are right."
"Lame Apologies"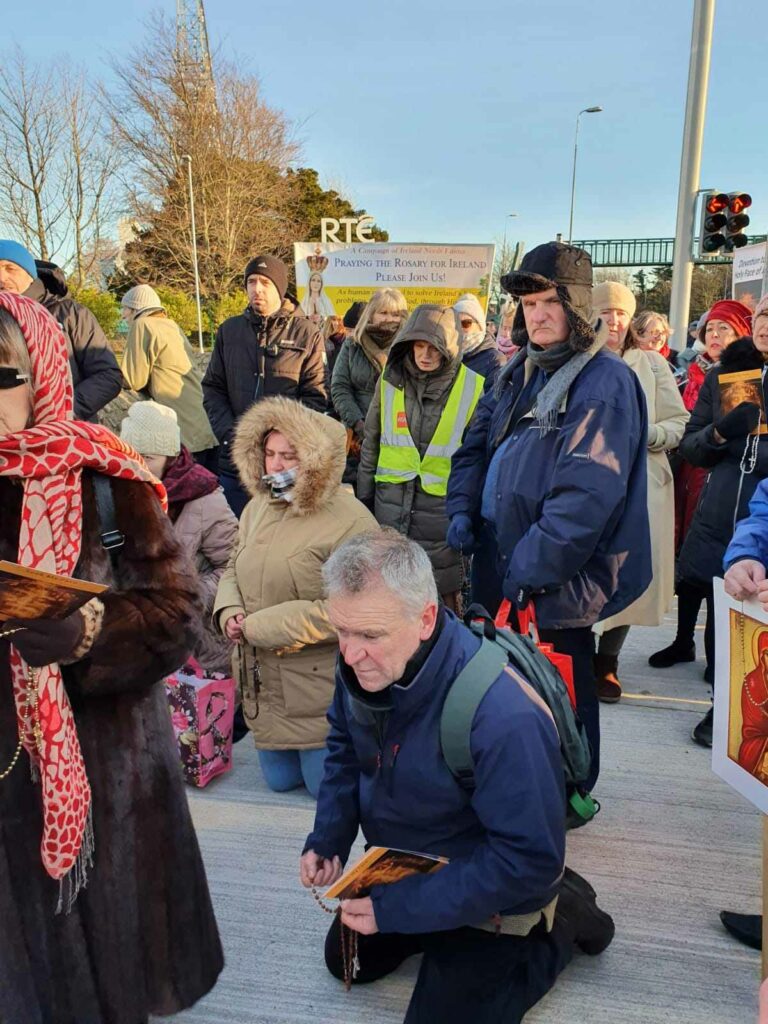 RTÉ first made two guarded apologies to "offended viewers" and then to themselves for breaking their own standards. Joseph, an attendee, called it a "lame apology," adding, "We're here to demand that RTÉ apologise to God, not to us, and not to themselves." This is just and normal since apologies are always made to the person offended.
"God will not be Mocked"
Joseph, warned that "God will not be mocked" and that "It is sins like these blasphemies that bring the vengeance of God on a nation. Sins like this will bring the downfall of Ireland." It is also clear that this is a persecution specifically of the Catholic Church. A man saw the hypocrisy well. "No other
religion would be flayed so publicly on such
an important holiday." A young Kerry man also pointed out that, "The name of God should be esteemed and feared. Yet, RTÉ
think that it is a name that can be made fun of. I thought reparation needed to be done, so I came."
Although RTÉ continue their fake news saying that "Around 60 people have protested outside RTÉ", thanks be to God, three hundred people came to pray and make reparation. As a consequence, later the same day, RTÉ has issued an "unreserved apology."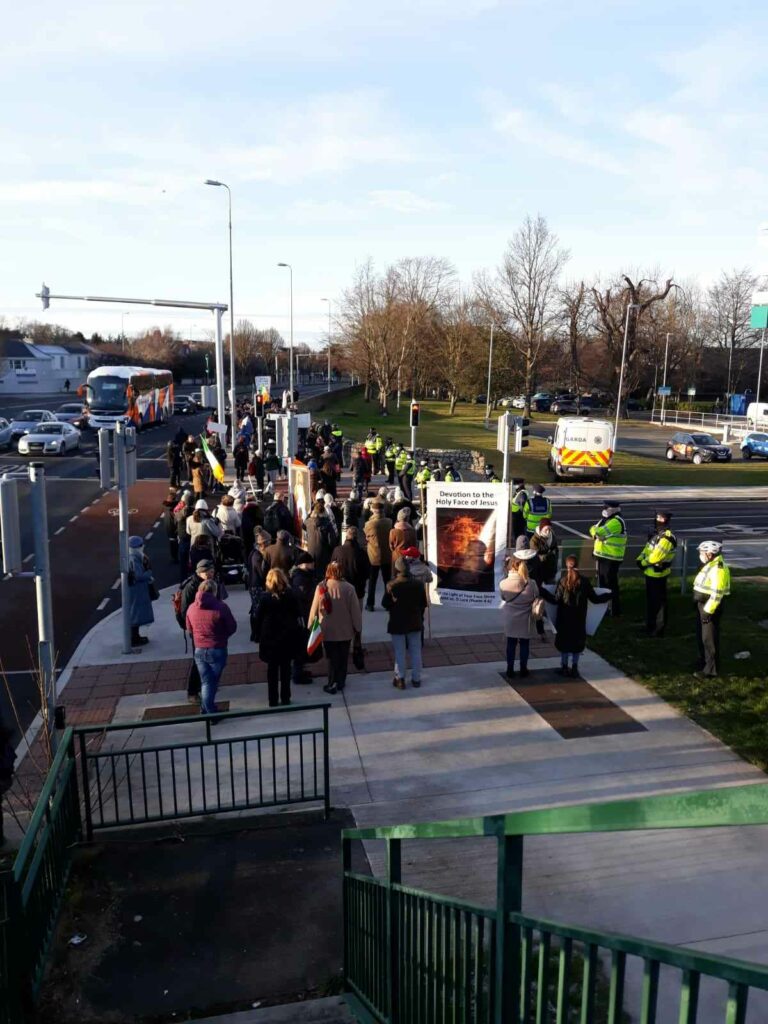 Here is the apology as seen on the RTÉ news. "On the News Year's Eve Countdown show, RTÉ carried a sketch, intended as satire…RTÉ acknowledges this did not show due respect
to religious beliefs and was also unduly offensive to many viewers and RTÉ unreservedly apologises."
Encouraged by this, we continue to confide in Our Lady, asking her to give us the calm, confidence, courage to defend her, to defend God and to return Ireland not only to the land of Saints and Scholars, but also to a land for warriors of the Catholic Church.