The Outburst Queer Arts Festival of Belfast is promoting a blasphemous piece called "The Gospel According to Jesus Queen of Heaven."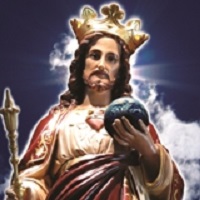 Just the title should fill us with indignation.
The piece, which already met with fury in Scotland where it made its debut, is "a revolutionary queer ritual in which bread is shared, wine is drunk and familiar stories are re-imagined by a transgender Jesus."
The playwright, a "transgender" man who goes by the name of Jo Clifford, is also the performer, who mocks the figure of Our Lord Jesus Christ by presenting Him as a "transgender/transvestite". DISGUSTING! The Bible tells us that God created humankind "male and female".
The Black Box venue in Belfast's city centre is showing a video of the play this Sunday, 15th November at 3 pm.
If you are able to join us in Belfast we will be holding a rosary of reparation from 2.30 pm – 3.30 pm.
Please protest this terrible blasphemy of Our Lord by phoning or emailing the theatre.
Also pray in reparation to Our Lord who is being offended at 3 pm this Sunday.
Please be respectful but firm when talking or writing. Express how deeply offended you are that they are promoting blasphemy and hate speech.
Phone Number: 02890243281 or 02890244400 remember that to call from outside NI you will need to dial 0044 and then omit the first 0 . (A phone call has an enormous effect)
Email: sarah@blackboxbelfast.com Sarah Jones Venue Manager